In early 2015, I completed a new website. Aside from updating the blog and changing the images on the splash page a few times, I never really followed through with updating any of the galleries. So here in 2017, I'm launching another new website where I hope to remedy my failings from before. I've updated my portfolios with a ton of new images taken in 2015 and 2016. Of course, the site is a work in progress still. I really want to add galleries of corporate work and maybe one for dance photos plus a set with links to clips, an updated bio and a store to sell prints. I gotta pay off my new 5D Mark IV!
In terms of music photography in 2015 versus 2016, I photographed somewhat fewer massive bands/performers and overall fewer shows as a result of a new born baby girl. But I still went to see a lot of music. I saw over 216 bands (some duplicates but different days) which includes short sets as part of fests/tributes or photo only opps (but I didn't record details for every fest or every special guest at an event so these statistics are merely a good place to start).
* I saw live music on 127 days (~35% days of the year).
* Most frequented venues: Baby's All Right (7); Madison Square Garden (6); Rockwood Music Hall (6); Webster Hall (6); Beacon Theatre (5); Bowery Ballroom (5); Terminal 5 (5)
* Most seen artists/bands: Lenny Kaye (5); Patti Smith (4); Pearl Jam (4); Humeysha (3+); Kamasi Washington (3); Red Baraat (3); Iggy Pop (2+ his Q&A at NY Film Fest)
* Number of Beatles I photographed (2 + Yoko)
My favorite shows in 2016 included Iggy Pop at United Palace Theater (which would be #1 if this was ranked), Pearl Jam Night 2 at Fenway, Underworld at T5, Patti Smith at Lincoln Center and a lot of sets at Newport Folk Festival (best festival experience). On the purely listening side, I thought Sturgill Simpon and A Tribe Called Quest put out the best albums overall though Iggy Pop's was probably the best rock album. My Village Voice Pazz & Jop ballot is here.
On the photography side of things, even if I went to fewer shows, I reached several milestones over the course of the year. I got some images from Newport onto Billboard's website, one of Sting onto Rolling Stone's site and several images into print. Namely, Iggy Pop in Japan's rockin'on; Kamasi Washington in JazzTimes and, at the end of year, I was told an image of Patti Smith (with Michael Stipe and Tony Shanahan) would make it into an early 2017 print issue of Rolling Stone (see the second image on the right side of the clip).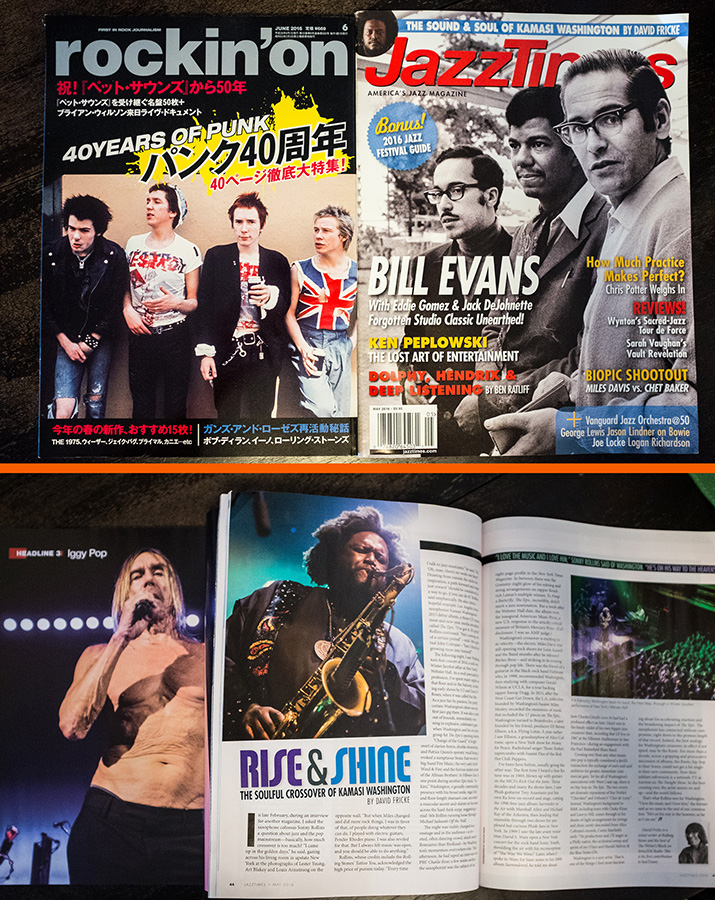 I played staff/house photographer for a few organizations and venues in 2016, including Schimmel Center at PACE University, World Music Institute, and (le) poisson rouge — some of which I hope to continue working with into 2017.
And I had friendly enough conversations with several legendary rock photographers, Bob Gruen, Mick Rock and Godlis, that I hope they remember me next time we cross paths. I was supremely honored to receive a holiday card from Gruen and his wife!
Looking forward to a fun and equally productive 2017.