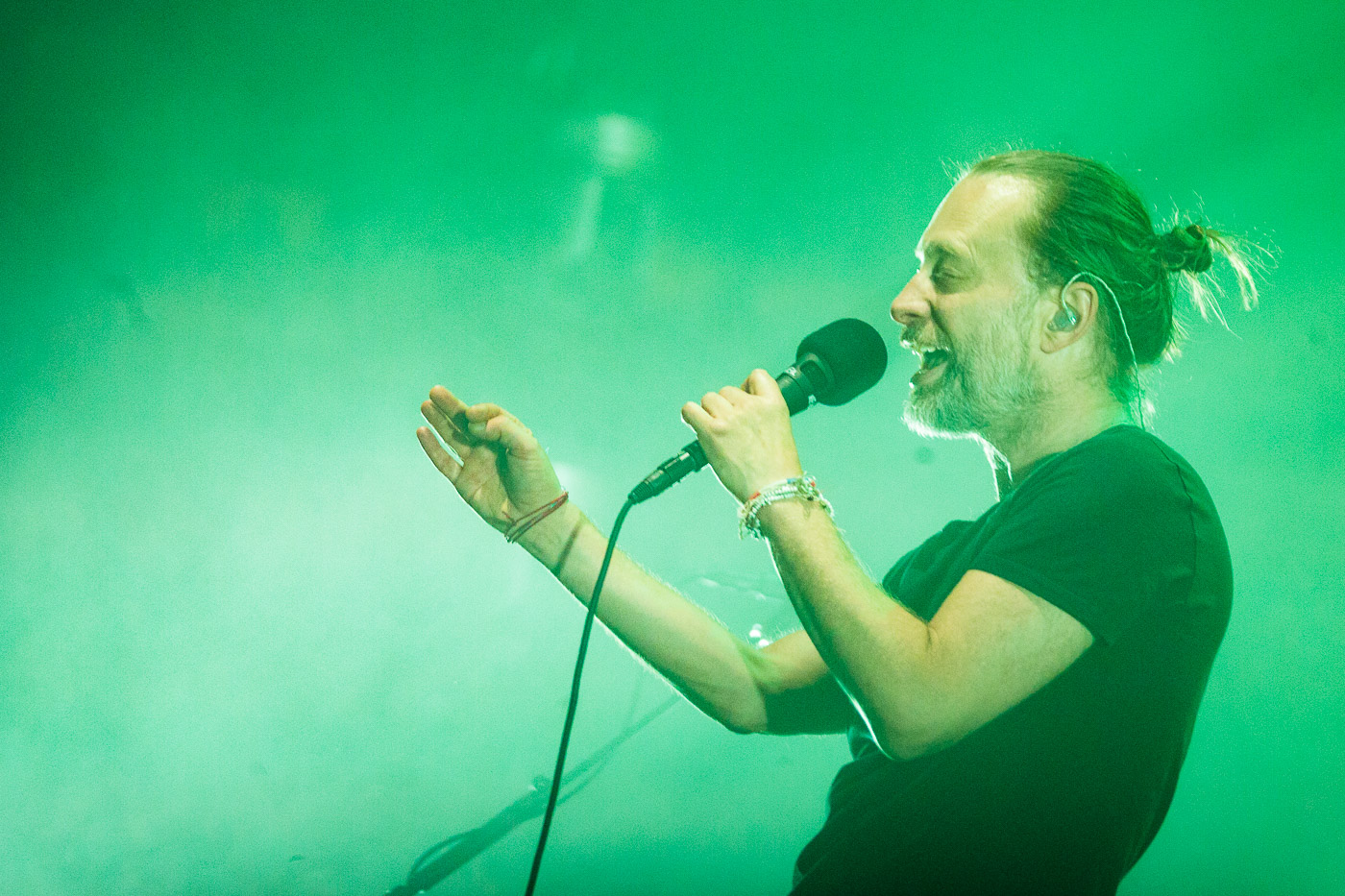 With Radiohead in New York City for four sold out shows at Madison Square Garden, I've been spending a good bit of time revisiting their catalog and reflecting on past shows I had attended. I "celebrated" my first Radiohead show, the Tibetan Freedom Concert in '98 in Washington D.c., by wearing a bootleg shirt I had got 20 years ago to the first night show. I was hoping Thom Yorke would see my tye-dye shirt when I was in the photo pit and and call me up on stage obviously. (The above photo is from the first night, June 10th, when I went as press; coverage to come.)
I attended the second night with my friend Danny. After Junun's opening set, we were talking about the early days of album streaming and how Kid A was available a week or so before the album released building up demand for the disc at retail. That reminded me of how Radiohead's follow up, Amnesiac, leaked onto the internet weeks before it's official release date of June 5th, 2001 (per a quick search). I had the burned the album onto a CD pretty much right after it leaked so I brought a copy of it on a car ride with some friends. It happened to be Easter Sunday 2001 (April 15th) and we were going skydiving.
Since it was our first (and my only time actually) going skydiving, I suggested that one of us should purchase the video package that was offered. No one else was willing to shell out the additional bucks, so I went ahead and splurged on it. I definitely don't regret it. Especially since the company allowed me to select the songs to accompany their final production (I'm not sure if they offered that option to everyone, but they were not rushed, few people were out there on the holiday). I can't say for sure why, maybe I was in a rush (to learn the rules) or maybe it was a moment of brilliance, but I grabbed the Amnesiac disc and asked them to include the first track, "Packt Like Sardines in a Crushd Tin Box". (It was only on watching this today that I remembered I also had Pearl Jam's "Alive" included, I don't know if I had the disc or it was one of their available options.)
Radiohead's music and lyrics happened to sync so well in the video (the propellers to the percussion, the "reasonable man" lyric as I'm jumping out of the plane) that I will now claim it was a moment of brilliance. (The Pearl Jam song feels tacky, so I'll claim that was cause I was rushed.) Check it out below in all the glorious quality a transfer from VHS to DVD to .MPG to .MP4 can hold.
(The skydive itself was awesome — we could see rain that was in the distance from our height. I never felt the urge to go again cause it cost like $300 but I might if it was free. Oh and don't worry, I bought the album when it came out.)